Hello guys, back again to your beloved website. Today, I want to share you some stuff related to anime. Yup, It's Fate Stay Night Unlimited Blade Works anime. This one is quite phenomenal, if you say you're an anime lover, you know this series for sure. From the game, manga, and anime. This series already captured everyone hearts. Do you one of them? If so, you're one of the lucky people who knows it.  So, why I recommend to watch it? We sure all of you curious to hear my answer regarding this matter.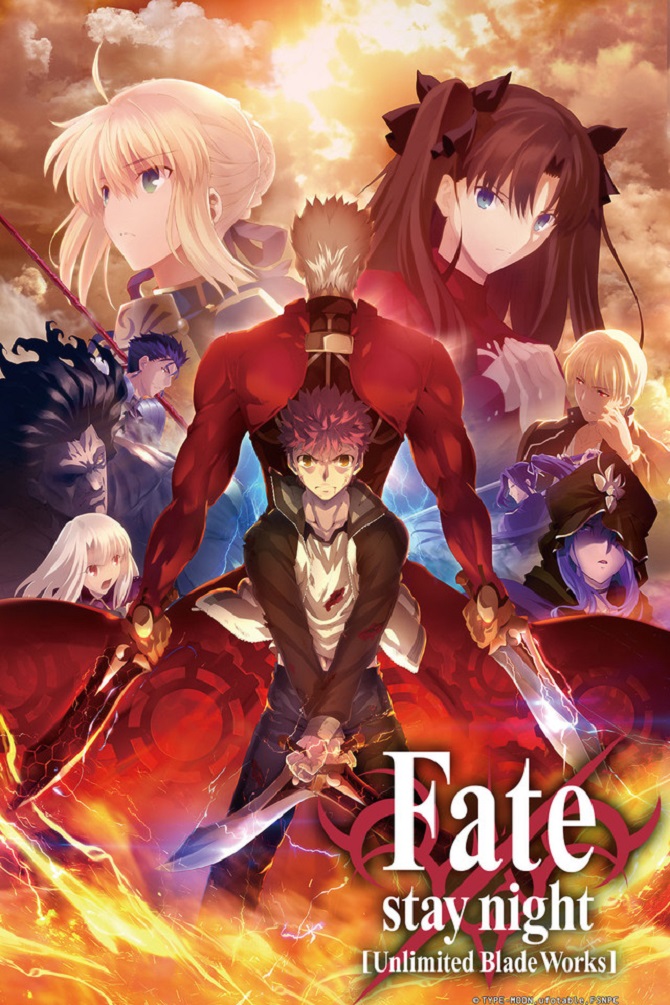 Is It Worth to Watch?
My answer is yes. You will enjoy this one. From the storyline, graphics and action scene. Every one of them is really lovely to see. I'm sure you will be amazed by it.  Ufotable, the developer of this anime really done well to make the viewer melting after seeing the graphics. I'm sure for you who don't know about this anime quite well will be confused at first. As a good writer, I will tell you a brief story about this one. It's about a war to obtain Holy Grail, this stuff can grant any wishes for the victor. So, as a selected magician from Fuyuki City, Emiya Shirou become a master, although he didn't have any magician skill to support his servant. For your information, servant is a hero soul from a long time ago that get resurrect in the modern era to duel against another servant to obtain the Grail.
You must be familiar with King Arthur Legends, you can find it in this anime. For me, the story is really great, you will find an amazing story line from the beginning until the end of the film. Ufotable really work hard to make this series become a masterpiece. If you don't want to watch the anime, you can view the movie version. But, I really recommend the anime version, because you will understand the story more rather than the movie.
Fate Stay Night Unlimited Blade Works Anime Review | My Comments
This one is worth your time, you will forget the time when you watching this film. Especially, the action scene that makes your heart melting from seeing it. As for me, this is the greatest anime graphics that I ever see in my life. This film has drama, action, and romance. If you love all three, this one is suitable for you. Now, it's time to choose what you are going to do. If I can give it a score, I will 95 out of 10. Yup, this anime worth that scores because of the awesomeness.
The Cast
Emiya Shirou: The protagonist of the story. The main lead that always gets a trouble. At first, his appearance looks stupid. But, later on, the series, he becomes a dependable man that everyone can count on.
Rin Tohsaka: The heroine of the story. Actually, Saber is the one, because of the story focuses on Rin, she becomes the main heroine. She is a tomboyish girl that everyone will hate. Her main objective is to become the victor of the war. Do you think only for that? If you want to find out, watch the anime.
Saber: She is Emiya Shirou Servant. She is the heroic spirit from Arthuria Pendragon. The great servant that wield an invisible sword. With her, Noble Phantasm Excalibur, she can burn all her opponent into ashes. But, on this story, the great fate await her.
Archer: Rin servant who wield many weapons. His talent with sword and bow it's really outstanding guys. You will love when he is in action. This man is shrouded in mystery. If you want to find out who is he, watch the film.
What do you think about Fate Stay Night Unlimited Blade Works anime? Do you get excited by seeing the summary of the anime? If so, you already know what you must do. Now, after you read Fate Stay Night UBW review, it's time to choose what are you going to do. Okay, guys, I think it's enough for today. See you again next time and god bless you all.