Hey fellas, welcome back again. Today, I want to give you an information about best video game website that you need to know for your gaming needs. So, which one do you think is the best one? Or you don't know anything about all this. For you who curious and don't know anything, I will give you an Information regarding this matter. Now, cure you curiosity by looking at the list below the great game website that will help you in a gaming world.
Best Video game Website | Find the Greatest One!
GameFAQs: As for me this is the best one. The information about gaming from this website is really accurate. You will find any games titles from the old one until the newest one. Also, if you need the game review, you can find it on this website. Complete with a scoreboard, a difficulty of the game, also the gameplay time. For you who looking for a walkthrough of the game, you can find it here too. So, everything that related to a game, this website is the best one. Also, the layout of this website really easy to navigate, you can find what you need quickly.
Gamespot: The second one is Gamespot. What makes this one become the greatest is about the game news. Because this website will update the news quickly after the newest one gets a release. You can also find a game review, walkthrough, and game of the month.  You can still find much information that this website offer that related to gaming industries.
IGN: Yup, the last one is IGN. Actually, this website not only about the game but you can find a movie review or news about it. So, if you maniac movie and game, this is a great website just for you. But, the minus of this one, you won't find any game walkthrough. But, this one is really needed to help your gaming stuff. What I like the best from this website is the creative ideas, because it's combined movie and game into one.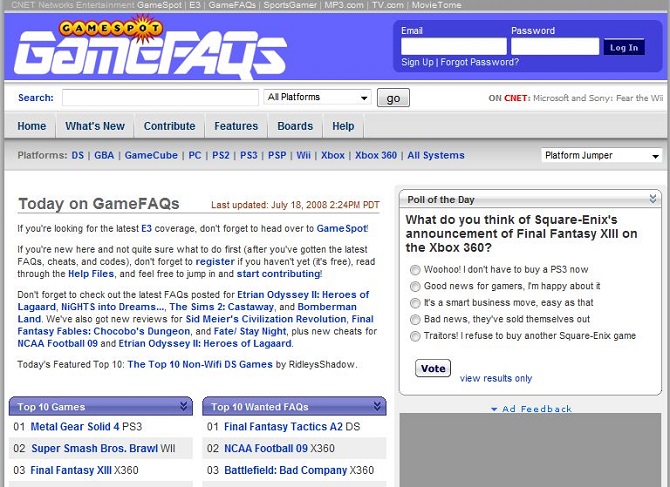 MY Personal Opinion
Now, I want to tell you my personal opinion about the three website gaming that I write today. As for me, I choose Gamefaqs to become my favorite. I'm really sorry if I don't choose your gaming website because it's based on my opinion. The reason why I choose it because GameFAQs is really helping me a lot. From the game review and walkthrough. But, what makes it more amazing is, you can open up a question and answer session on this website. So, you can play this game, you don't know how to obtain the specific item. So, you can ask a question and then you post on this website. If you someone know how to get it he/she will answer you. This is a unique feature that I see.
Okay guys, what do you think of the best video game website based on my opinion? I'm so sorry if I don't choose your game website. Now, you already know what you must do if you want to find your gaming stuff. Okay guys, see you in my next article. Have a nice day and god bless you all.