Paradise – a word that truly describes the magnificent Island of Maldives. With its emerald crystal clear waters, pristine white sands, and extraordinary tropical geography, surely, this will be the most luxurious place to unleash your stress and enjoy your holiday getaway.
The Maldives island is a collection of approximately 1990 coral islands garlanding around 26 coral atolls located in the north-central Indian Ocean. Thanks to its rich and diverse ecosystem, people are able to experience a paradise here on earth.
So, the question now is, How to plan your luxury Maldives holiday? What to consider? Well, I got you on that!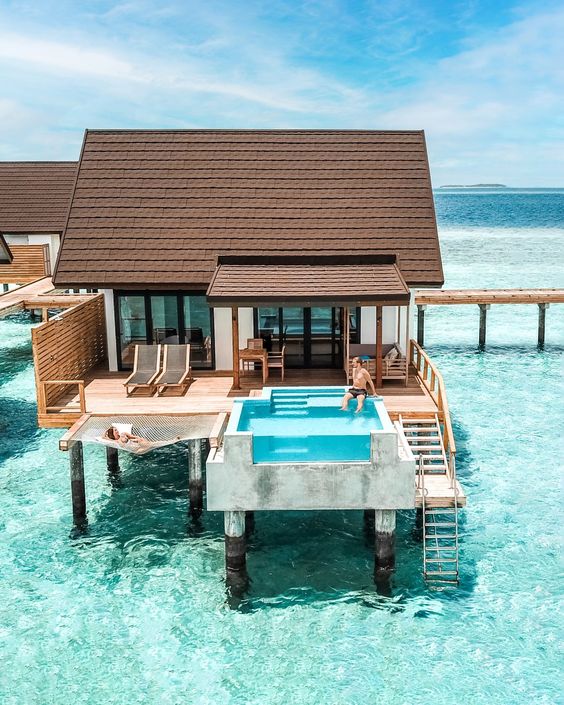 What do I need to prepare for Maldives?
A holiday getaway in Maldives sure is exciting but is not just a simple weekend unwinding travel in a nearby town; it has to be planned. You will need to consider the weather, flight, bookings for the villa hotels and resorts maldives, and many more things to experience a luxury getaway paradise on Maldives Island.
Need to be prepared:
Know the right season to be in the Maldives

Choose wisely your airline rides 

Book the best Maldives resort or hotel

Choose a ride to transfer in the Maldives

Prepare your documents.

Pack your baggage wisely

Prepare your bucket list of entertainment in the Maldives
Know the right season to be in Maldives
Since Maldives Island is a tropical country, we expect that there will be sunny and rainy seasons. Oftentimes, the weather here is stable, warm, and summer-like, which explains why the air and water temperature to get 25-30 ° C.
Due to being cozy with a gentle sunny touch, November, December, January, February, March, and April are the peak seasons. During these months, you can surely achieve the sun-kissed skin that you have ever wished for. The rest of the months are the rainy season because of monsoon winds. This does not mean that when you go to Maldives during May, June, July, August, and September will be spoiled because of the bad weather, but the probability of having rainfall is high. Averagely, there will be 12-14 days of rain are expected during this period; though the rain happens mostly at night and will not take long.
Choose wisely your airline rides 
To get to the Maldives, an air ride is generally the most effective option, but if you have your own private yacht, then it is possible to travel by water – only from India. In other words, an airline ride is the wisest transportation if you want to visit the paradise of Maldives.
The one major international airport of Maldives is located near the capital of the country, Male, the island of Halule. To get the best deal, it is better to have regional or domestic flights from Middle East Asia.
Book the best Maldives resort or hotel
Synonymously, Maldives is with opulent hotels and amorous bungalows where underneath is the clear, calming water. Resorts and hotels here are divided into two: Private and Local. Private Resorts provide the most comfortable holiday and divine ambiance, where you can really experience luxury, while the Local resorts are more budget friendly where you can stay at a guesthouse. 
Choose a ride to transfer in the Maldives
From Male, you need to get to the specific Island resort of your choice. Speed boats, public ferries, and seaplanes are your choices of a ride to transfer. To experience luxury, choosing a seaplane ride is a great choice.
Prepare your documents
For a smooth, luxurious holiday vacation in Maldives, prepare and check the necessary documents and requirements. Though you will be issued a tourist visa that is free of charge upon the arrival until 30 days, do not forget to bring the following for formality: international passport, proof of the return flight reservation, proof of hotel reservation, proof of negative PCR test result for COVID-19, completion of medical insurance and health declaration, and most importantly your cash and bank card.
Pack your baggage wisely
Traveling in a tropical country, these are the things that you might consider bringing and packing in your baggage: Lightweight clothing, comfortable shoes, hats, sunglasses, lotion with SPF, a first aid kit, and toiletries. Though you can buy some of these things there, it is better to bring your own.
Prepare your bucket list of entertainment in the Maldives
For your vacation in the Maldives, where you can do a lot, here are some of the activities or entertainment that you should include in your list: scuba diving, snorkeling at the house reef, sea ride trips, and if your resort is located near Male, you might consider walking around the city.
What should I know before going to the Maldives
Having a holiday in the picture-perfect paradise of Maldives will be a great experience if you will know these things. So, ask yourself, "What should I know before going to the Maldives? Well, before visiting the Maldives, you should know that: The Island of Maldives is approximately made up of 1990 small islands; no need for a visa; Islam is the religion of the Maldives; peak season is from November to March; get used to what they call as "Island Time," choosing a hotel can be a hard part of your travel so consider the Maldives resort all-inclusive, and most importantly know that the Maldives has amazing marine life.
What can I not bring to Maldives?
Nobody wants to get in trouble, especially during a vacation in the best affordable hotels  Maldives, even more when we are on a luxurious vacation that we booked ahead of time. Our minds should be filled with excitement and dreams. So, keep in mind that you have not packed anything illegal or contraband in your luggage like explosives, weapons, firearms, ammunition, or pornographic materials. Stuff like these will never be allowed to get into any country. You are out there for a
 vacation, so you might even consider packing your own alcoholic beverage, but no. You are not allowed to import such items, but it is needless for you to do so since Maldives resorts and hotels are ready to serve you such gracious drinks during your stay.
How much money should I have to go to Maldives?
If you are planning a getaway in the Maldives, expect to spend around MVR (Maldivian Rufiyaa) 3,698 or USD (US Dollar) 239 per day based on the average expenses of the visitors. Given this value in mind, if you want to stay in the Maldives for one week, your average expenses will reach MVR 25,888 (USD 1,673), for two weeks MVR 51,775 (USD 3, 349), and for one month MVR 110, 947 (USD 7,170).  
But if you want to experience a luxury getaway at a low cost in the Maldives, try the Maldives resort all-inclusive for the Maldives holiday packages. 
Which part of Maldives is the best to stay?
There are many unique holiday destinations where you can stay in the Maldives. You just need to bear in mind where you can get the best Maldives vacation packages while staying in the best place on the island. Here is the best part of the Maldives where you can stay and take advantage of the best Maldives vacation packages in the Maldives Exclusive: Ayada Maldives, situated on the southern tip of the Gaafu Dhaalu Atoll, Southern Maldives;  Baglioni Resort Maldives, located in Maagau, Dhaalu Atoll; Constance Halaveli, a 25-minute seaplane ride from Male; Emerald Maldives Resort and Spa, 20 minutes away from Male by speedboat; Grand Park Kodhipparu Maldives, 20 minutes speedboat ride from Male and is located in North Male Atoll; JA Manafaru, positioned at Haa Alifu Atoll; Mirihi Island Resort, 30 minutes seaplane ride from Male and is situated in the corner of South Ari Atoll; Nautilus Maldives, located in the Baa Atoll; Residence Maldives, located in Falhumaafushi; and Velaa Private Island Maldives, located in Noonu Atoll.
Which is the most luxurious Maldives resort?
Among the aforementioned most luxurious Maldives resorts that are also part of the best luxury all-inclusive resorts Maldives, JA Manafaru Maldives is the best choice. With its world-class luxurious accommodation, this resort has been awarded multiple awards. The resort has announced its operation as part of the All-Inclusive Resort recently. JA Manafaru Resort experience includes their Beach Villa with a private pool having 200 sqm, it can accommodate 4 guests in a king-size bed. It also has Sunrise Water Villa with an infinity pool in 135 sqm floor area, 3 guests in the king bed. Sunset Water Villa with infinity pool is also available, measuring 135sqm, 3 guests in the king bed. JA Manafaru has a lot of rooms to offer, like Deluxe Beach Villa with a family private pool, Two Bedroom Ocean Residence with family infinity pool, Two Bedroom Beach Residence with family pool, and 2 Bedroom Island Residence with family pool. All of these can be found here in the most luxurious Maldive resort, JA Manafaru Resort.
What is the best month to go to the Maldives?
If you are planning for a vacation in the Maldives, you might be single or a couple, where you can avail the Maldives vacation packages for couples, you need to take into consideration the best month to go to Maldives. Given that the Maldives is a tropical country, choosing from November to April is the best month to go to the Maldives. Either of these months, the soft touch of the sun will be assured.
How many days are enough for Maldives?
Depending upon your budget, you should plan for how many days you will be staying in Maldives. Approximately, tourists and visitors take 4 to 5 days staying in the islands where you can surely enjoy the major places. However, if you want to stay longer without sacrificing a lot of money, Maldives hotel deals inclusive will be of great help. 
Plan your luxury Maldives holiday getaway now! For more information about Maldives  vacation packages, hotel deals, and other offers, kindly visit www.maldivesexclusive.com.